The best sat-nav apps for your phone
We tested these sat-nav apps and reviewed them for your convenience
If you've previously used a sat nav device in your car, you may want to upgrade the viewing experience by letting your phone do all the hard work for you. Since your mobile is always with you and chances are that it'll boast a bigger screen and better graphics, it's clearly a great sat-nav substitute.
Then there's the fact that a phone can be more than just a map. By installing a sat-nav app, you can get many extra features like constant live updates for accidents, speed cameras and hazards – all of which will make your trip safer. We've tested the best sat-nav apps available to make it easier for you to pick the right one for your needs. Simply read on and you'll have it sorted in no time.
How we tested them
We installed the apps on iOS, Android and Windows devices and evaluated information on how they performed and the overall guidance process, including voice instructions and graphics. Most importantly, we checked whether the apps had offline map support. Apps that primarily work online can be used without a signal with pre-planning and downloading of relevant maps, but they can also come unstuck in low signal areas and increase your data bill.
Finally, on-board features often surpass those of rival, standalone devices, despite the apps costing a fraction of the price or even nothing.
CoPilot Premium HD Europe £23.49
(iOS/Android/Windows Phone)
A solid option with maps that nail the perfect balance between clarity and decent information. Although CoPilot is not on par with the best apps here in terms of graphics and user-friendliness it includes some amazing features. It learns favoured routes, automatically displays alternatives and allows easy modification by simply dragging the roads on the map. If you want to be able to get traffic updates then you'll have to pay £7.99 more, although the first year is free. Last but not least you can download maps when you need them offline, which means using the app won't eat up all your phone's data.
TomTom GO Mobile free (read text)
(iOS/Android)
TomTom's sat-nav app is like a miniature version of the rest of its portable sat-nav range, which is actually a good thing; it's fully functional, complete with traffic, maps and speed camera alerts – all free of charge. However, you're limited to 50 miles a month unless you pay £14.99 for one year or £34.99 for three. The positive experience starts from the first minute of use: everything happens intuitively. It also offers a bright and breezy map. Audio and visual instructions are clear too. You can't go wrong with this app, besides – you get it for nothing.
Waze free
(iOS/Android/Windows Phone)
Waze is a community-driven sat-nav app that's completely free for navigation and all other traffic services. It's based exclusively on data submitted by other drivers, which means you know from the very first moment that its quality can't compete with apps like TomTom or CoPilot. It's easy to install and the traffic data is generally good but you should always keep in mind that the more people who contribute, the more accurate the data and vice versa. Waze's popularity makes it a reliable and detailed source for most of the country but on the other hand it won't work unless you're using your mobile data.
Navigon Europe £59.99
(iOS/Android/Windows Phone)
Although it's the most expensive of this selection, it justifies the price once you start discovering the depth of its features, an area in which Navigon tends to shine more brightly. The interface and mapping will be familiar to anyone who's used a Navigon or Garmin device in the past and it does a good job of recreating the traditional sat-nav experience on a mobile. There are no traffic reports as standard, but this function can be bought as an in-app purchase for £15. All told, this app will get you where you need to go. Getting a full wallet there with you is another matter.
Navmii free
(iOS/Android/Windows Phone/BlackBerry)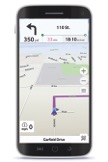 Much like Waze, Navmii is designed to crowdsource traffic, road hazards, and other driving information, but in offline mode these features don't work as you would imagine. Whether you're online or off Navmii is really a breeze to use – natural, intuitive and, most of all, fast and reliable. At the very least, there's no risk in giving it a try – and downloadable celebrity voices include Stephen Fry and Snoop Dogg.
Back to Latest News