Top film locations in Scotland
The Glasgow Film Festival is approaching quickly and excitement is increasing – and no wonder, since Scotland has been the chosen location for some of the most popular films so many times. And we haven't even mentioned Braveheart….
Monty Python and the Holy Grail (1974)
This iconic comedy parodies King Arthur's quest to the Holy Grail and is set almost entirely in Scotland. Scenes were filmed in Glen Coe, Perthshire, Rannoch Moor and other castles across Scotland. Most of the castle scenes were shot in the Doune Castle (near Stirling) from various angles and Castle Stalker was used for the location of the final scene. An appropriate choice considering the King Arthur story if we may add!
Trainspotting (1996)
Ehm… if you haven't heard about this film you've probably been living in a cave! Trainspotting marks the beginning of Ewan McGregor's career and tells the dark story of a group of friends in Edinburgh. It's based on Irvine Welsh's book of the same name and it has been ranked 10th in the British Film Institute's Top 100 films of all time. Most of the film was actually shot in Glasgow, however some parts were filmed in Edinburgh too. Locations in Edinburgh include Princes Street and Waverley Station, while in Glasgow filming took place in Jordanhill, Alexandra Parade, Giffnock and the West End – surely very familiar to everyone who has been to Glasgow!
Harry Potter and the…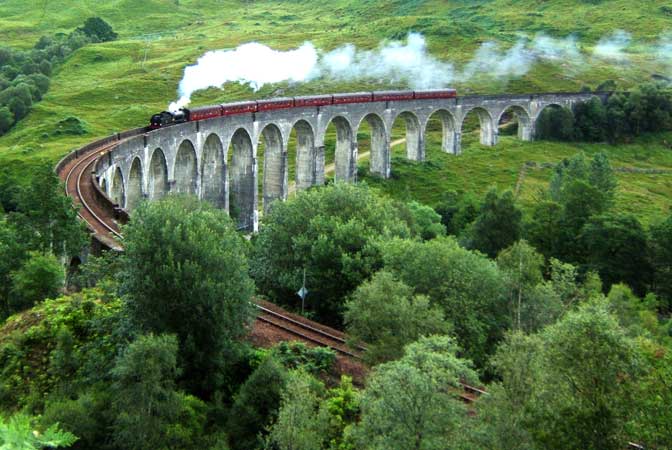 Insert film title here because almost all of the Harry Potter films had scenes shot in Scotland. The most popular film location is undoubtedly the Glenfinnan Viaduct where the Hogwarts express journey across, located on the West Highland Line. At first, it was used for the scene with the flying Ford Anglia in the Chamber of Secrets film and then the viaduct was shot in almost all subsequent movies as the Hogwarts Express was crossing it. Other locations include Loch Shiel, Lochaber (quite close to the viaduct), which was used for Hogwarts Lake and as a backdrop for Hogwarts. Steall Falls, near Glen Nevis, where the dragon battle from the Goblet of Fire was shot and Clachaig Gully was used for Hagrid's Hut. It's worth noting this list is not exhaustive.
The Da Vinci Code (2006)
Now if you haven't seen this film we don't want to spoil it for you so we'll not disclose exactly why the leading characters found themselves in the Rosslyn Chapel, however it is a Scottish film location so we can't just ignore it. The Rosslyn Chapel is a beautiful, 500-year-old chapel located near the town of Roslin, near Edinburgh. It plays a key part in the film as its history is laced with Knights Templar stories and Holy Graal myths. To further strengthen these myths and legends, the stones of the Chapel are engraved with cryptic messages and drawings.
Skyfall (2012)
The 2012 film character from the iconic Bond film series was definitely going back to his Scottish roots by filming in a number of stunning locations throughout the country. Reportedly, Ian Fleming was so impressed with Sean Connery's performance that he decided to give the character a Scottish heritage – and placed Bond's family estate outside Glencoe. In Skyfall, Daniel Craig's character drives along on the A82, passing by Buachaille Etive Mor and Buachaille Etive Beag. We will go as far as saying that the stunning scenery almost upstaged Mr Bond. The rugged mountains and winding roads make Bond and M's escape from Raoul Silva significantly more exciting…
Macbeth (2015)
Fresh out of the oven, this big screen play adaptation features acclaimed actors Michael Fassbender (as Macbeth) and Marion Cotillard (as Lady Macbeth). But what really steals the show is the breathtaking film locations across Scotland and northern Engalnd – mostly Isle of Skye, Perth and the Bamburgh castle in Northumberland. On the Isle of Skye, Quiraing was used as a setting for Macbeth and his army's journey home as well as Lady Macbeths' journey to Inverness. Another key location is The Fairy Pools, again on the Isle of Skye, but don't let the crystal blue waters fool you – they are nothing short of freezing! Glamis Castle made an important appearance where as we know, the legend says the ghost of King Duncan floats around looking for revenge on Macbeth…
And a final note: On the 18th February, Arnold Clark Car & Van Rental is having a Networking evening at 29 Glasgow with the Glasgow Film Festival- exciting!
Back to Latest News