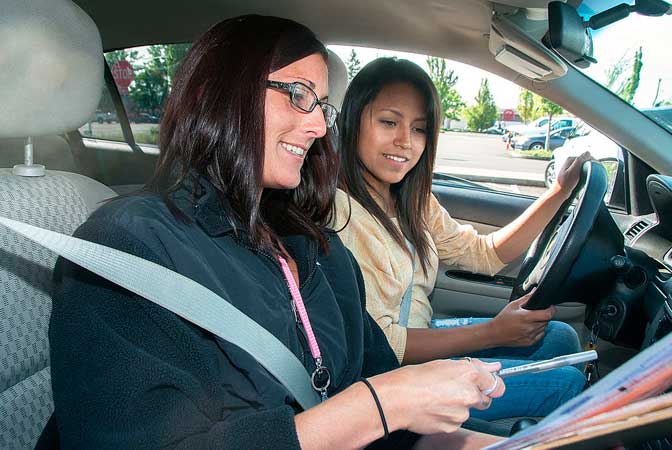 Tips on how to prepare for your driving test
So you have passed your theory test and know your highway code, but the task is still ahead to actually pass your practical driving test.
The practical test can last up to 40 minutes, which can feel like a lifetime, and will include a combination of sight tests, car safety questions, manoeuvres and independent driving. In preparing for your test, and as part of September's Young Driver Month at Arnold Clark Rental, we have gathered a list of things you can do to make sure you're ready and good to go on test day.
Get to know your possible test routes
Test centres have a set of approved routes which they must take drivers on, and chances are if your instructor is from the local area then they will know some, if not all, of the routes that their previous students have been taken on. In the weeks leading up to your test ask your instructor to take you on some of the routes to get you used to them, allow you to understand speed restrictions, signs and traffic levels of those routes. This means come test day you will be more confident as it will be a road you know and have driven on before.
Practice your manoeuvres
Reverse around a corner, turning in the road and reverse parking (bay or parallel) are the three formal manoeuvres that you will be tested on, on the day of your test, so be prepared. Try and get in as much practice of all three of these as you can. Perhaps go to an industrial estate with a qualified, legal, passenger, and practice or on a quiet side street. You want to make sure that you get this right.
Get extra experience
Practice, practice, practice! You can never get enough practice in prior to your test. In many cases you will only see your driving instructor once or maybe twice a week for lessons, so you need to find other ways to practice over an above this, to help improve your confidence on the road. As a qualified driver must accompany you with your practicing, parents, guardians or friends may not be keen on you using their own car to practice in but the alternative is to hire a dual control car. A dual control vehicle has:
Dual control pedals, meaning the passenger has a break and clutch pedal at their feet if they need to help or emergency stop at any time
L plates on all side of the vehicles and reflective livery to be sure drivers can see you in the dark
Fully comprehensive insurance for provisional driver licence holders
The first 10 miles in the car free of charge
You can hire a dual control car from any of our branches across the UK for £9 per hour, or if you have a Young Scot card you can get 2 hours for the price of 1. Hiring one of these cars in the run up to your test can really improve your confidence and help you to prepare for the road.
Make sure your car is suitable for your test
More often than not you will be able to reserve your driving instructor's car for your test, as that is the car you have been used to driving, but in some cases this might not happen e.g. overlap of test time with another student or other lessons booked in. If you can't take your driving instructor's car you need to make sure the car you to use is legally suitable to be used on a test. Some of the things you need to look out for are that it:
Is insured and taxed properly
Is road worthy and has a valid MOT certificate
Has an interior rear view mirror for the examiner to use (in addition to the driver rear view mirror)
Has L plates
Has a seat belt for the instructor
This list is in no way exhaustive, visit the gov.uk website for a complete list of test car requirements. All of our dual control cars are suitable to be booked and used for your driving test. You will need to book the dual control prior to the day of your test and make sure you leave enough time for collection before your test time.
Be prepared
The night before your test make sure you lay out all of your paperwork and things you need to take with you to your test, your theory test certificate, driving licence and glasses if you need them. Also make sure that you get a good nights sleep and your'e rested for the test day and with nerves kicking in on the morning of your test remember to eat something, it can make all the difference.
It would also be helpful to arrive at the test centre in plenty of time before your test, allow yourself time to get in, relax and compose yourself before the test, you don't want to be flustered before you begin. Make sure you wear comfortable clothes that you can drive in along with a suitable pair of shoes.
Good Luck!
Back to Latest News